CMW 40th Anniversary Opening Party
Tuesday, June 7 at 7 pm
$36 / tickets
CMW aims to provide a platform to music that represents the future. Dine Alone Records presents the official kickoff party featuring Crown Lands, BRKNLOVE, and Sam Coffey & the Iron Lungs. 
Crown Lands are a rock duo with powerful lyrics on Indigenous resistance. As the conference reflects on four decades of evolution and amplifying urgent voices, CMW president Neill Dixon describes Crown Lands' music as "both powerful and necessary."
Toronto band BRKN LOVE drop a heavy dose of rock that combines the most enrapturing aspects of the genre: emotion, distortion and versatile vocals. Sam Coffey & the Iron Lungs live and breathe powerful pop-rock. These performances are build on the best parts of CanRock's history and will make a strong impression for years to come. 
M pour Montréal et Mundial Montréal present: SHOW BATEAU
Saturday, June 11, 12pm to 4 pm
207 Queens Quay West, Pier 6
$25 / tickets
All aboard the Northern Spirit Yacht. This CMW party sets sail at noon on Saturday, June 11. It'll be hard to miss the dock with the Heavyweights Brass Band playing by the boarding area. You'll be introduced to musicians who are making waves, on a boat equipped with a bar and a summer-ready spirit.
Jam with guitarist and digital artist AfrotroniX, disco band Choses Sauvages, and Montreal hip hop trio Planet Giza. Get to know Guerrilla-folk duo Balaklava Blues who make musical reflections centred on the current chaos in Ukraine. 
Presenting some of Quebec's freshest artists, SHOW BATEAU is powered by our friends at M for Montreal and Mundial Montréal.
RANGE x PlayMPE x ArtHaus
Wednesday, June 8 at 5 to 10:30 pm
60 Lindsey Ave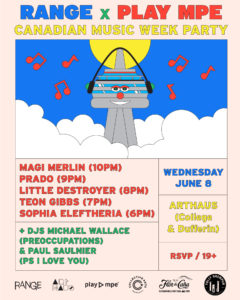 We invite you to our very own star-studded lineup at ArtHaus, a company focused on music, community and artist wellness. Range Magazine partners with music promo service Play MPE to serve a packed evening of talent. 
While rejoicing in the release of her new EP, Gone Girl, Magi Merlin sets out to challenge everything you perceive about art and society. Toronto-via-Vancouver singer/producer Prado is excited to show off every facet of her genre-smashing sound. Little Destroyer will channel their alt-rock aggression through pop sensibilities and punk defiance for a chaotic yet vulnerable set. 
Kicking off the night, Sophia Eleftheria supplies delicate R&B through tight vocal runs and harmonies with minimalist R&B production. And one half of the ferocious duo JNGL, rapper Teon Gibbs will take the stage at 7 pm with his emotional and charismatic delivery. DJs Paul Saulnier (of PS I Love You) and Michael Wallace (Preoccupations) will keep the vibes going all evening. 
On top of supplying sounds we know our readers will love, this party is FREE with RSVP!  Secure your spot while you can here. 
CMW and MODO-LIVE Present Dallas & Cameron Philip with Dani Doucette
Thursday, June 9 at 7 pm
Rivoli
$15 / Tickets
In one of Toronto's staple venues, MODO-LIVE has put together a perfect evening of pop music. Singer Dallas Rodin places herself on the map with her confident voice. Her 2020 feature on "OUTERSPACE" with BEAUZ has reached over 17 million plays on Spotify. Dallas' latest single "R.I.P" is a perfect example of the pop-punk revival we're currently living through.  
Singer and BTS superfan Cameron Philip will bring his smooth synth-pop swagger with hints of dramatic eccentricity. The sugary sweet vocal stylings of Dani Doucette will set the tone for a night of touching songwriting and danceable melodies.