housepanther
View this post on Instagram
housepanther makes earworms chock full of anxious, wound-up lyricism courtesy of lead singer/songwriter Bailee Woods. Between lamenting the death of Marissa Cooper and the loss of past lovers, the Winnipeg-based power-pop outfit produces endlessly danceable bops. Catch them at Palomino on June 24 at 3:30PM.
Mighloe
View this post on Instagram
The Toronto-based R&B singer will be delivering soulful serenades on June 24 at 7:30 at the Central United Church. A spare guitar and her dreamy lilt is all it takes for her ballads to touch your heart while her lyrics cut to the soul.
Maky Lavender
View this post on Instagram
Maky Lavender is bringing his bilingual bars to a few different shows over the course of the festival, including RANGE Magazine's Rhythm & Brunch free rooftop event at Broken City on Saturday, June 25. Lavender is known for rapping and singing across a variety of genres and his high-energy performances wowed us at shows in the past. He's sure to bring the heat. 
Teon Gibbs
View this post on Instagram
One of Western Canada's best voices lies in Teon Gibbs. He pairs his whip-smart raps with smooth indie/alternative-influenced vocals for a compelling live show. Vancouver's own is bringing his talents to Broken City on June 23 at 8:00PM.
Silvering
View this post on Instagram
Silvering makes vulnerability-fuelled "flowery tunes for when you're bummed." Their most recent single, "Same Side," is a treat for the ears featuring a harrowing string arrangement that we can't wait to soak in live. See it live at Dandy Tasting Room on June 22 at 7:00PM.
Suzi Analogue
View this post on Instagram
Selected by Sled Island guest curator Sudan Archives, Miami's Suzi Analogue is bringing her blend of samples, synths and beats for a euphoric electronic genre-bending blur. Get ready to rave on June 22 at Commonwealth at 10:00PM.
Yoo Doo Right
View this post on Instagram
Part shoegaze. Part post-rock. Part krautrock. All shreds. The Montreal trio of Yoo Doo Right traffic in effects-laden guitars and reverberated vocals for a sludgy, hypnotic dose of psychedelic goodness. Follow the wall of sound to the #1 Legion on June 22 at 10:00PM.
BOZO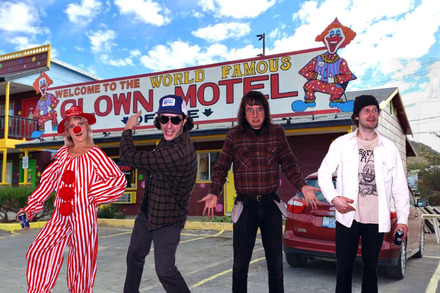 Are you down to clown? This garage rock quartet of Calgary expats are bringing their sweet riffs and high-octane anthems to Pin-Bar on June 25 at 12:00AM. 
For Art Lovers
Are you an art lover? A gallery wanderer? Or just someone who pretends to know art on first dates? Well Sled Island has a gauntlet of visual art programming just for you. Kick off your art escapades at Chad VanGaalen's NTH, composed of sculpture, paintings, animation stills and drawings—pieced together from discarded scraps, found objects and other detritus. That's a win for art and sustainability! 
There's also the Sled Island Poster Show, where local artists pair with performers to create limited edition posters. The series includes depictions of Backxwash, Alex Cameron and Built to Spill among others. Check it out at I Love You Coffee Shop!
Cap off your art crawl with a mural unveiling at the Lilydale Parking Lot and Saturday's nvrlnd. Art Market.
For Comedy Buffs
Laugh it up fuzzballs, Tea House is hosting a showcase of comedians on June 23. The laughs continue through the weekend of June 24 and 25 as The Comedy Headliner Showcase takes over, featuring Just for Laughs alum Jackie Pirico and Letterkenny writer Allie Pearse.
For Film Fanatics
The Questlove-directed documentary Summer of Soul plays at The Plaza Theatre on June 22 and 23. The Oscar-winning doc covers the 1969 Harlem Cultural Fest which ran concurrent to Woodstock. Next up, The GRAND will be screening the first episode Ahya Simone's Femme Queen Chronicles, which follows the lives of four Black trans women in Detroit. The director will be sitting down for a Q&A after the event on June 24. Last but not least, the legendary multidisciplinary artist Lydia Lunch will be following up her documentary The War is Never Over with a conversation at the Globe Cinema on June 24. Read our interview with Questlove.
While you're in Calgary for the festivities, don't forget to swing by RANGE Magazine's Rhythm & Brunch event at Broken City on Saturday, June 25 at 11 am, for some free brunch and caesars. It's also free to attend with RSVP and you can catch Maky Lavender and Lowkita between slow-jams from Catfish the Wizard. Okay, that's our shameless plug out of the way. Now here's a few of the acts we're excited to see at Sled Island 2022!