Every once in a while we get the odd visitor who comes through and I'm always honoured to take them around and show them everything this city has to offer. I'm not talking about a cliched trip to West Edmonton Mall — although that is really fun. Unfortunately though, this time around there's just too many of you and too much going on.
Fun fact: Did you know Edmonton is the most multicultural city in Canada outside of Toronto, and has the largest Black community in Western Canada? That means culture and a lot of Black owned businesses to support.
One of my favourite things to do when I'm in a new city is drink coffee, so I'm going to kick off my official Guide to Edmonton with that while I also highlight some other places to check out for the best food, drink, and even haircuts. I've also suggested some JunoFest related festivities to keep on your radar if you're looking for a front row seat to the best talent Edmonton has to offer. 
Remedy Cafe (various locations) is a cafe chain in the city and has amazing coffee and a decent selection of vegetarian options. Skip Starbucks for some local flavour if you can.
View this post on Instagram
Safron's Caribbean Delight (8155 112 Ave NW) serves up Jamaican and Caribbean food that you won't forget. They've got a pretty cozy atmosphere. I recommend you try the oxtail, beef stew, and goat curry.
View this post on Instagram
Habesha African Market (0418 107 Ave NW) is the place to go if you prefer to do your own cooking and want some fresh groceries. They're open late (until 9pm) and have a bunch of unique stuff from the Caribbean and South Africa that you can't find anywhere else.
View this post on Instagram
Prime Time Donair (11343 104 Ave NW) I've been to Halifax a lot and they brag about their donair poutine but if you haven't been to Prime Time, you ain't had a donair poutine. If you really wanna get out of the way and visit my end of the city you also need to hit up Swiss Donair (8308 144 Ave NW)
View this post on Instagram
Legit Kicks (5015 111 St NW, #360) If you want to get some fresh kicks this weekend catch the train over to Southgate Mall and visit Legit Kicks.
View this post on Instagram
Legacy Barber Shop (8930 Jasper Ave, Unit 110) – If you're looking for a quality hair cut around the downtown area, make sure you holla at my barber Dre. 
View this post on Instagram
If you're looking for a good brunch spot, the Sugar Bowl Cafe (10922 88 Ave NW) and the Common (9910 109 St NW) are equally great for their own reasons and offer a variety of food that will cure even the worst hangover.
View this post on Instagram
Having grown up in the Edmonton music scene, I feel a responsibility to highlight a few artists who you should make a point of checking out at JunoFest. I've put together an all ages show on Friday, March 10 featuring some amazing hip-hop talent. Introducing Edmonton's most promising upcoming voices, the lineup includes Moto, R3tro, $aint Laurent, Hazzy, Kuda tha Kid, and DJ Explicit.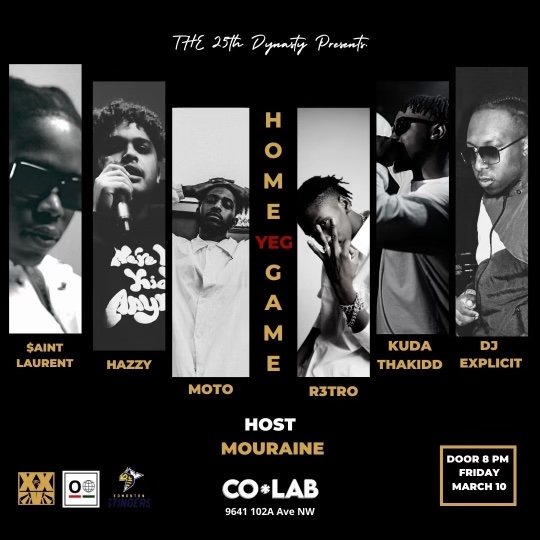 I also recommend you check out the Starlite Room (10030 102 St NW) on Friday to catch Cab'ral and Sargeant x Comrade. Also check out Tea G at Soho (11454 Jasper Ave). And I strongly suggest ending the night at the Common for hometown hero and published author Cadence Weapon's DJ set.
On Saturday (March 11) make sure to check out Meisha and the Spanks at the Rocky Mountain Icehouse (10516 Jasper Ave). They will be sharing a bill with BETABOYS and VERTTIGO who just released a music video for their new single "Autumn." If you're looking for more at the end of the night, head back to the Common for some dancing with Skratch Bastid.
Sunday (March 12) is poised to be the most important day for JunoFest because I'll be showcasing at 99Ten (9910 109 St NW) alongside my Birthday Cake Records family, which includes K-Riz, the Bros Landreth and Mariel Buckley. Also, I low-key heard there might be cake. 
Monday (March 13) we will be all dressed up for the official Juno Awards presentation and if you don't have an invite to the coveted Universal Music after party, I'll be performing at Explore Edmonton's party. I will reveal the location to those who show up to my show on March 12.
About Mouraine: 
Born in Sudan, bred in Edmonton, AB, and destined for stages around the world, Mouraine is a hip-hop trailblazer who deserves your attention. His debut EP, Bigger Dreams, dropped in 2021 via Birthday Cake Records and received props from Complex, The Source, CBC, RANGE, and more. His sophomore album, In Search of Gold, is out on May 5 and offers a metaphorical representation of his life journey. Mouraine always thought chasing possessions would fulfil him, but now realizes that finding gold is really finding one's purpose, peace and happiness. Check out his aptly titled latest single, "Gold" here.