Their album, Happy Now, was one of my top albums of 2022. With songs like "I Wish 2016 Never Happened," with lyrics reading like one of my journal entries from that cursed year, and their single "Loser" possibly being the most relatable song for women in music (since "Mansplain," of course), I was really excited to spend a week in a van and get to know the badasses behind the songs. 
SEATTLE
Meg: This was the first photo I took in Seattle! Fellow photographer Travis Trautt showed us this little bar tucked away in the basement of the Crocodile and I was immediately inspired! I feel like we got off to a really good start here!
Nikki: We knew we were going to have a blast with Megan on this tour. The first five minutes of us seeing each other, we took these awesome photos; it was so easy and comfortable! It's like we've been BFFs and taking photos together for years. 
Kate: The chemistry was off the charts!
Rosie: Megan's vision was so spot on with what we were feeling from the get-go and this photo is the perfect example!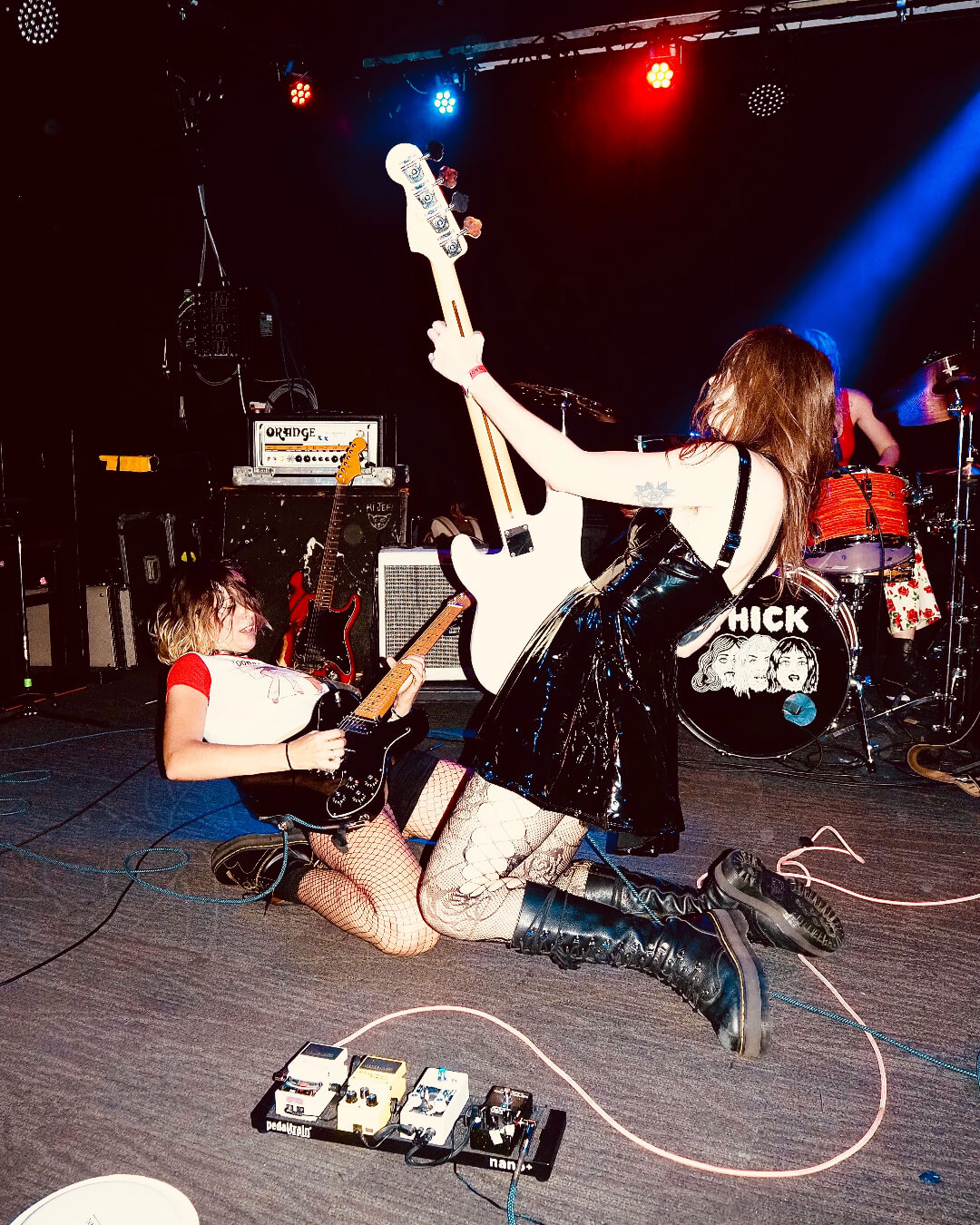 Meg: One of my favourite things about touring with a band is getting to know their set list, stage moves, and figuring out what moments I need to capture. It was really easy with THICK!
Kate: There's definitely a lot of bouncing around and hair flipping going on, so we can be a blurry bunch. (laughs)
Nikki: It's hard finding a photographer who can capture our live energy in photos. Megan did an awesome job figuring out our moves and getting to know what pics represent our style! 
Rosie: We almost never stop moving through a show, and it's so hard to capture what the energy feels like on stage, but Megan did an amazing job capturing all of that!
PORTLAND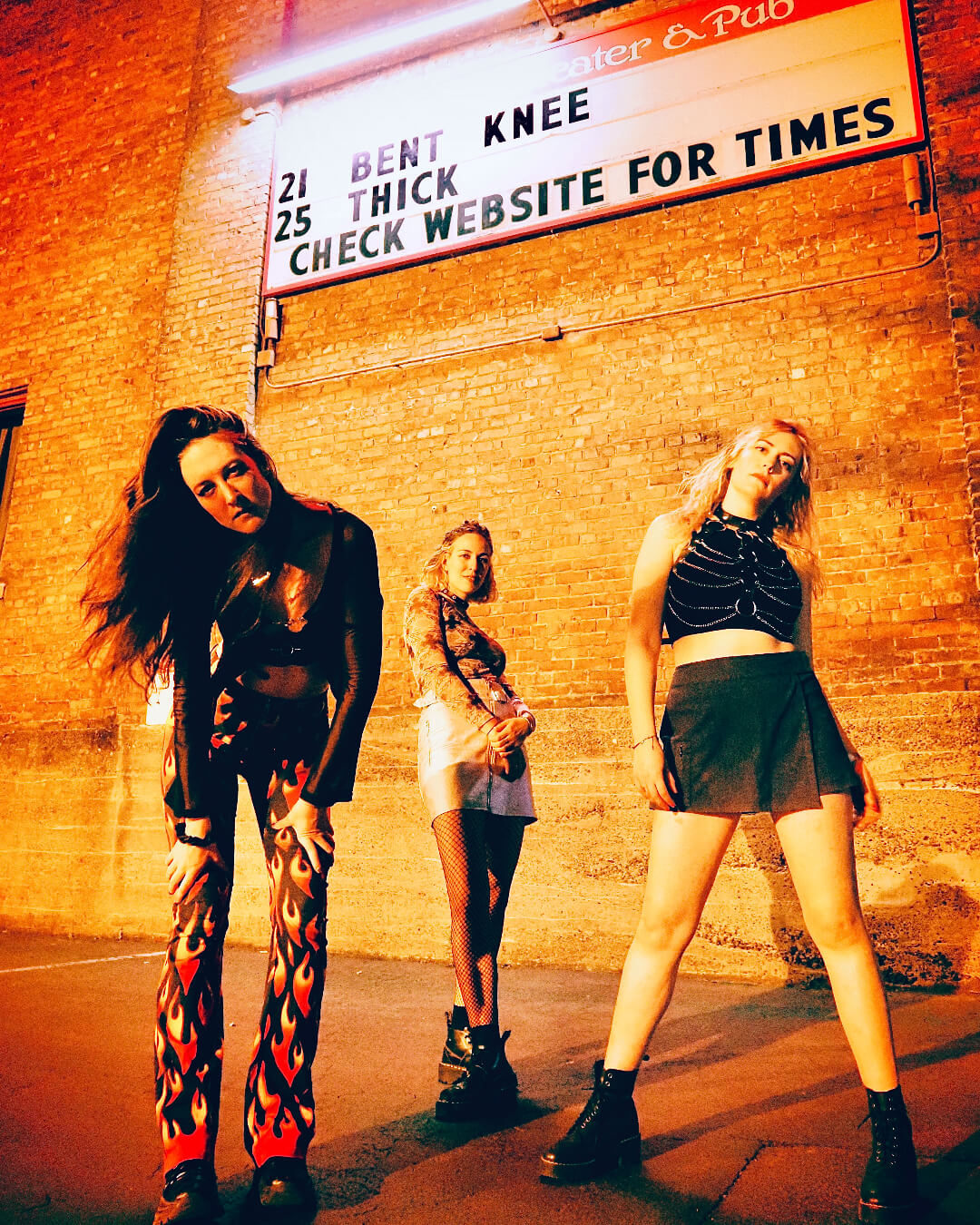 Meg: Sometimes I see a spot and I can envision the photo in my mind – this was totally one of those spots! I saw it during load-in and made a mental note to bring the band back at night for a classic marquee shot. So thankful that these angels were always down to jump in front of my camera anytime, even if they were sweaty after a show!
Kate: Post-show shots are always fun, because you lose any of the polish that may have existed. Everyone's a little bit soggy and a little bit dazed. 
Nikki: I love and trust Megan's vision. I'd let her take a picture of me anywhere, anytime in front of anything. Blindfolded.
Rosie: I am obsessed with this one – it's epic haha!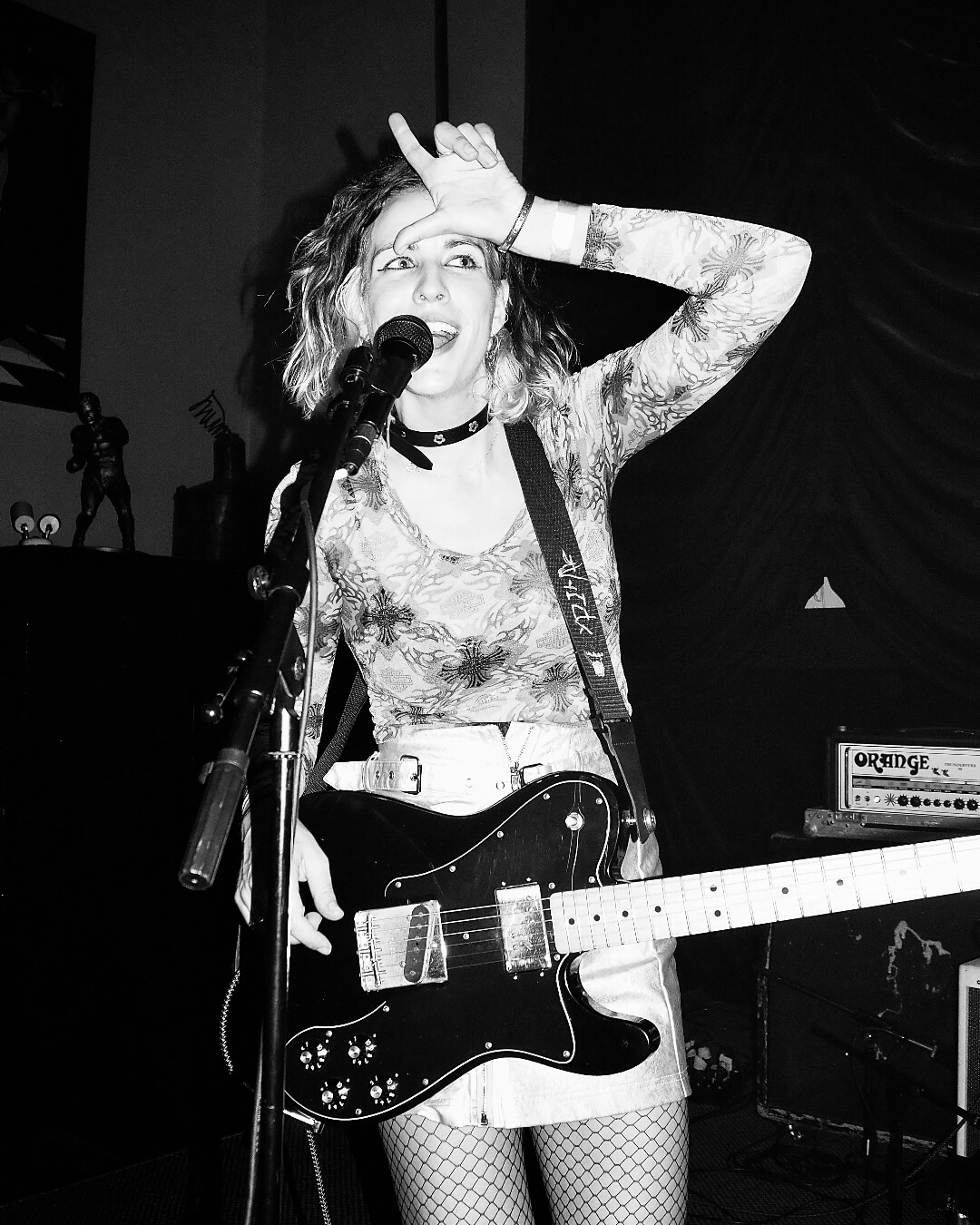 Meg: This was a weird show!  An impromptu game of charades on stage was involved. I feel like Portland brings out a crazy version of myself, and I think Nikki shares a similar sentiment. This was also the night my drunk alter-ego "Mad Dog" came out. Ladies, would you care to share your drunk aliases? 
Nikki: Portland is a vibe! NastyNikki is my alias and she isn't allowed in the front of the tour van. This was also the night we created our new goth synth band called First Sex.
Kate: My alter ego is unnamed. She flies under the radar, but you know she's out when the "rules" slowly start going out the window. Gillian is the queen of the alter egos, with at least three I can think of…
Gillian: Gilly Gogs. Gilly No Gogs. Jersey-Gill, if she lit. This is one of my favourite photos from the tour! I have never seen a band conduct a full game of charades with audience participation, and enthusiasm to boot. It could have all gone haywire, but it was perfect. 
Rosie: My alter ego doesn't have an official name yet, but whoever she is, she's sassy and Portland definitely brought that out! 
SAN FRANCISCO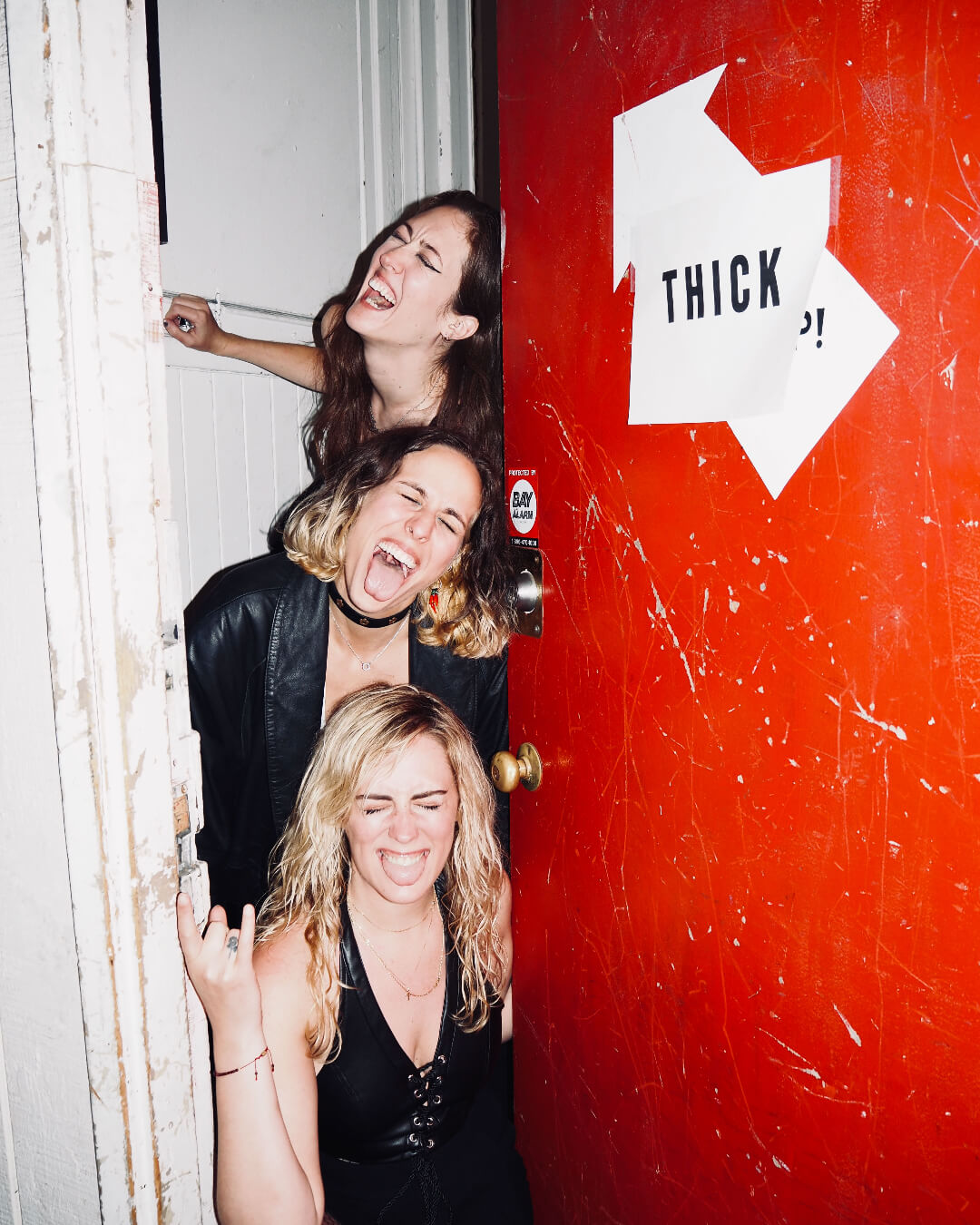 Meg: This was taken minutes after THICK finished playing a sold-out show on Kate's birthday in San Francisco! The vibes on this night were immaculate, and I think you can tell by the photo that we were all in good spirits. But it might've just been the "tex-presso martinis" we had at dinner.
Kate: The tequila was the best part! The best way to get hype (other than a Jager bomb)
Nikki: Who knew tequila was in a Tex-presso!? This was our last show with Grumpster. We all connected so fast, and it was such a great way to end our run together. Now we have forever homies in San Francisco.
Rosie: The tequila definitely added some spice (laughs) but this photo was also one where Megan had a vision. We were all so down to go with it, and she captured all of the great energy!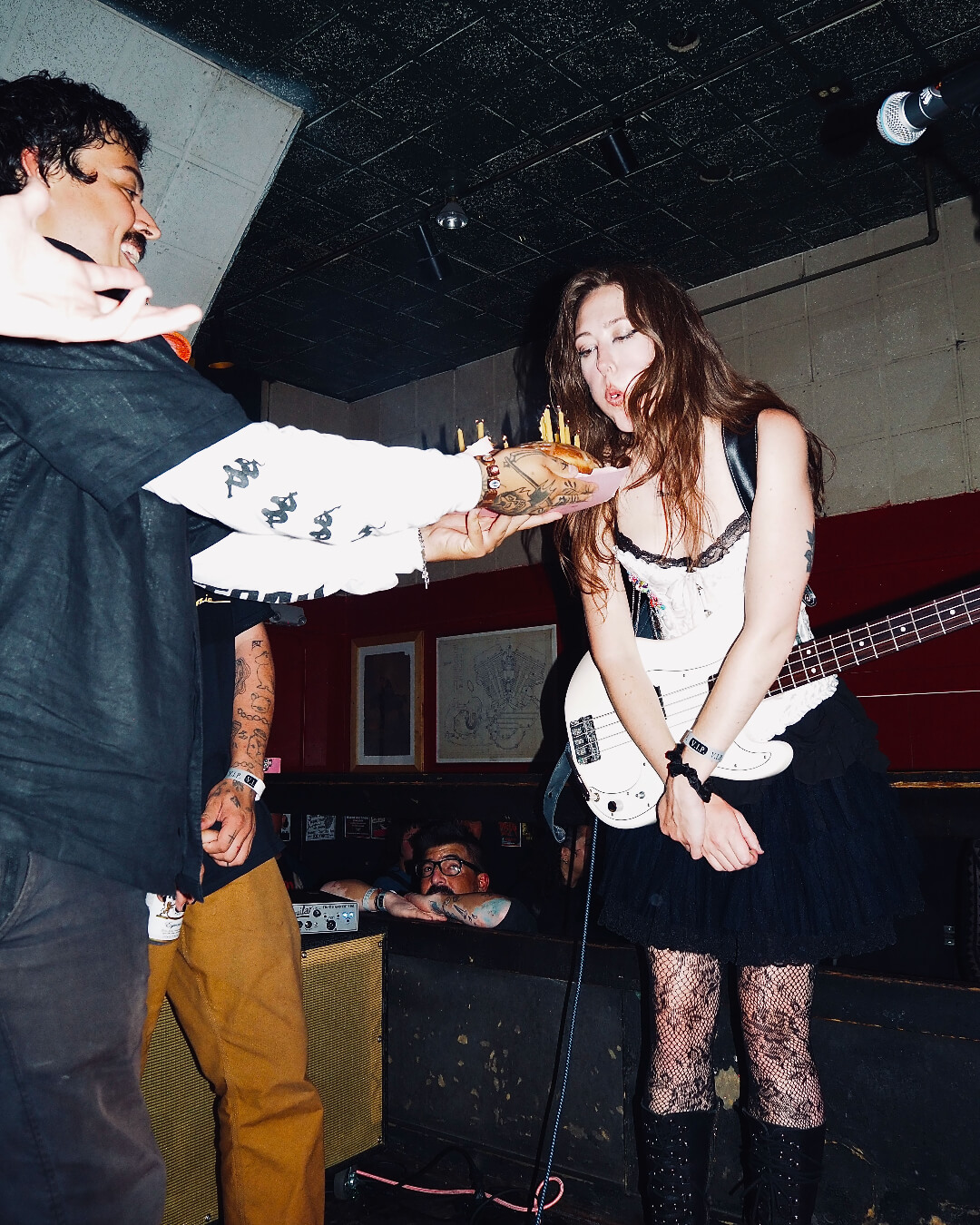 Meg: The surprise that took numerous days and numerous people to execute! I'll let you guys tell the story haha.
Rosie: We'd been in cahoots with Grumpster for days to plan all of this. (laughs) They are the absolute GOATs and we couldn't have done it without them! I was convinced that Kate knew what was up with all of the sneaky phone calls and talk about donuts, but it worked!
Kate: I've never been so excited to receive a donut in my life! I usually go on a rant about how angry I am at the world at the end of "Mansplain," but after a perfect mansplanation of what a birthday is from Donny (of Grumpster) and a surprise cake, I couldn't stop smiling long enough to tap into the rage.
Nikki: We celebrated the night with Jager bombs, of course. 😈
LOS ANGELES
Meg: Doors at the venue had just opened, and the lineup around the block was making its way inside as I convinced the band to quickly run across the busy LA street with me for what would be our final portraits of tour. *single tear*
Nikki: Our friend Joan did our make up and she absolutely killed it. I remember feeling so lucky to be surrounded by such fiercely talented women. 
Kate: The green room was definitely bursting with estrogen that night.
Rosie: LA was a super-squad and it was AMAZING!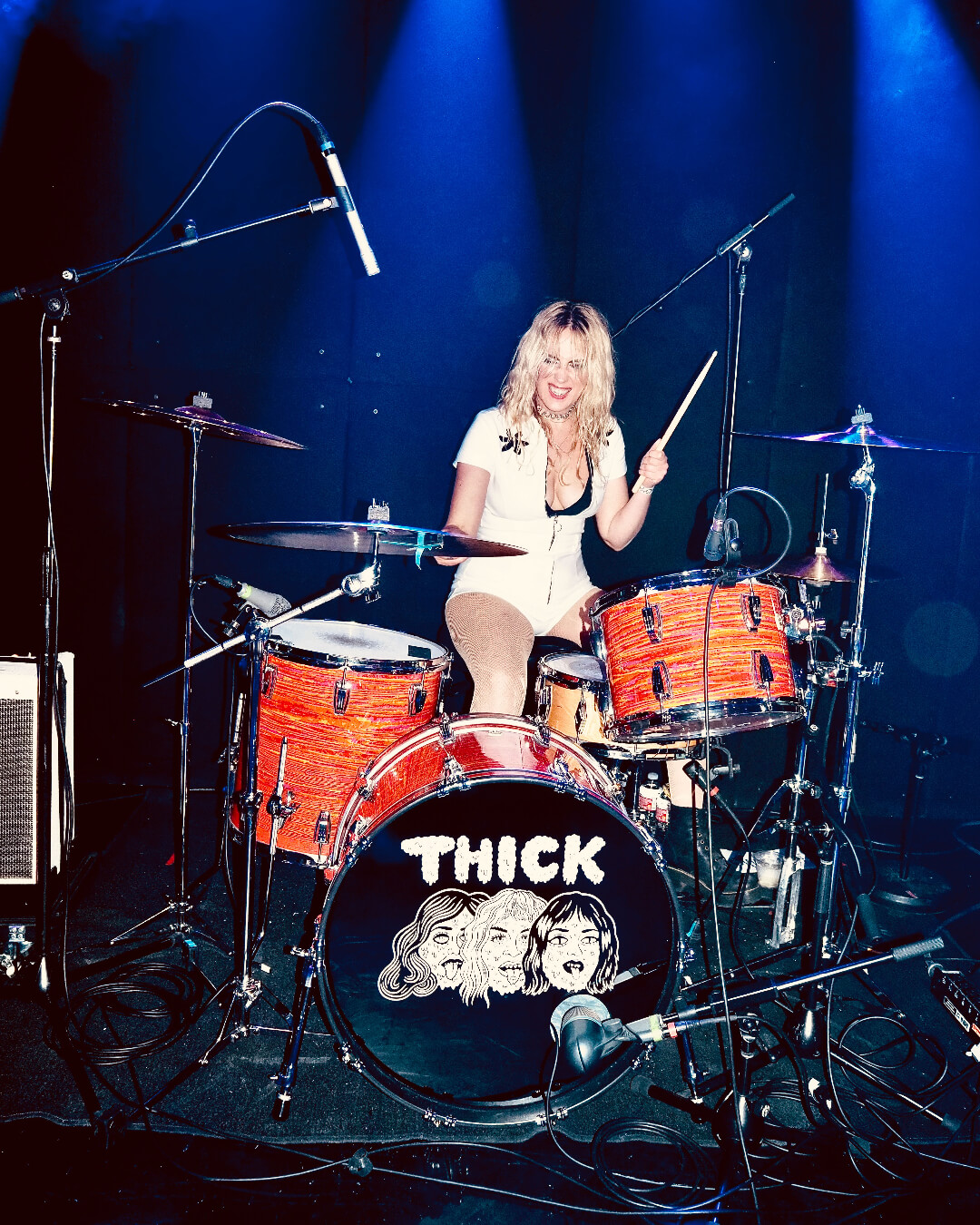 Meg: I got so many killer photos of Rosie on this tour that it was really hard to pick just one. I just love the faces she makes while drumming so much!!
Nikki: Rosie slayyyzzzz!!!
Kate: My favourite part is that we're facing away from her for most of the show, so we don't even really get to enjoy Rosie in her full glory until we see the photos and videos after the fact.
Rosie: Playing is my happy place and honestly I never know I'm making the faces until I see photos and things after, but I love how Megan captures those moments. Also, this shot has three or four orbs that weren't in any of the others… all the ghosts coming out!
BONUS DAY OFF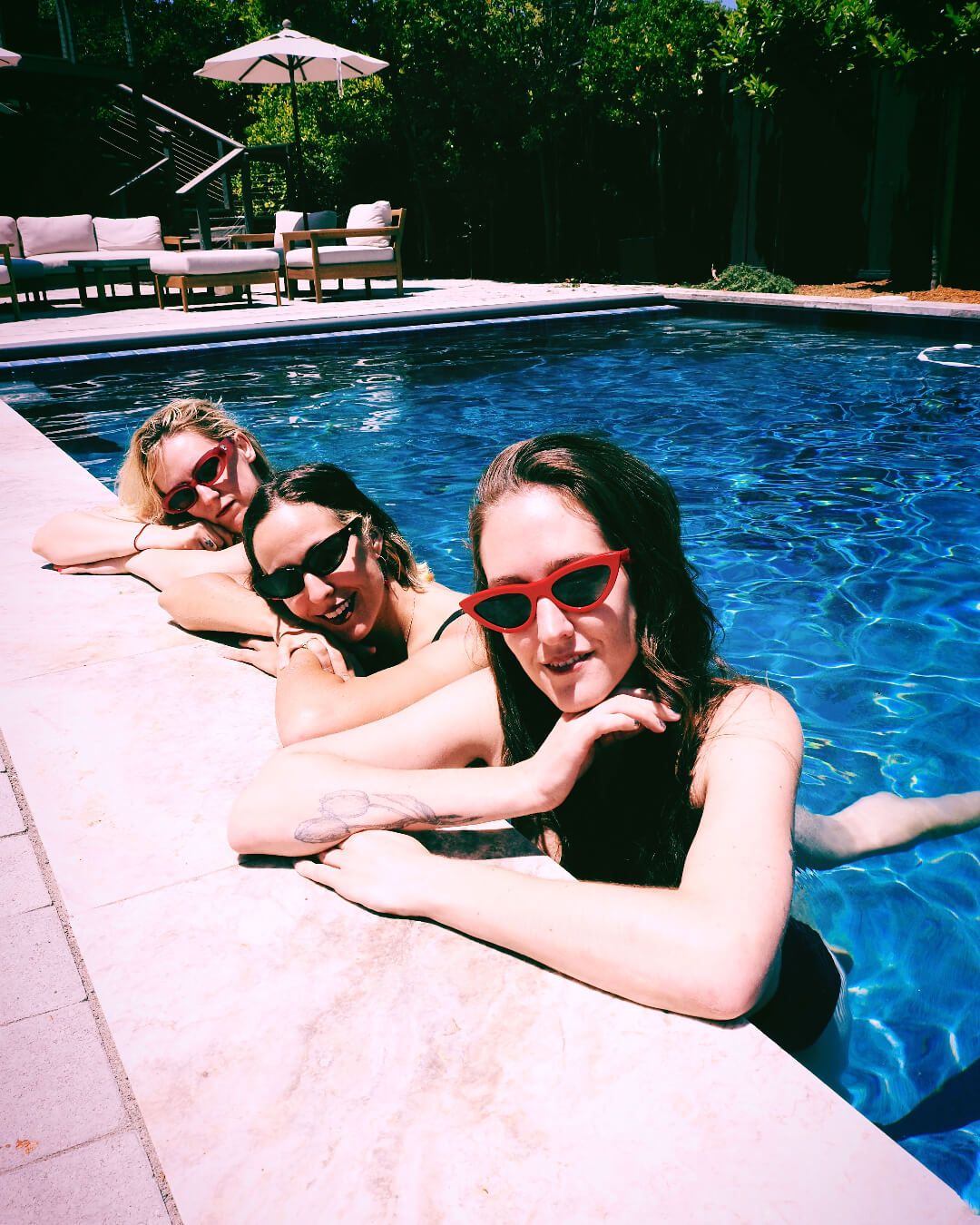 Meg: It was really hard to only pick a couple photos from each city, and I just couldn't leave out our epic pool day! I felt like Ryan Atwood in the OC—I just wanted to live in the pool house and cause trouble haha 
Nikki: Pools on tour for lyfeee. I don't know how we always end up in fancy pools, but I'll take it. 
Kate: It's the THICK way.
Rosie: Pool days 4ever.
Gillian: That day was majestic. Pure bliss.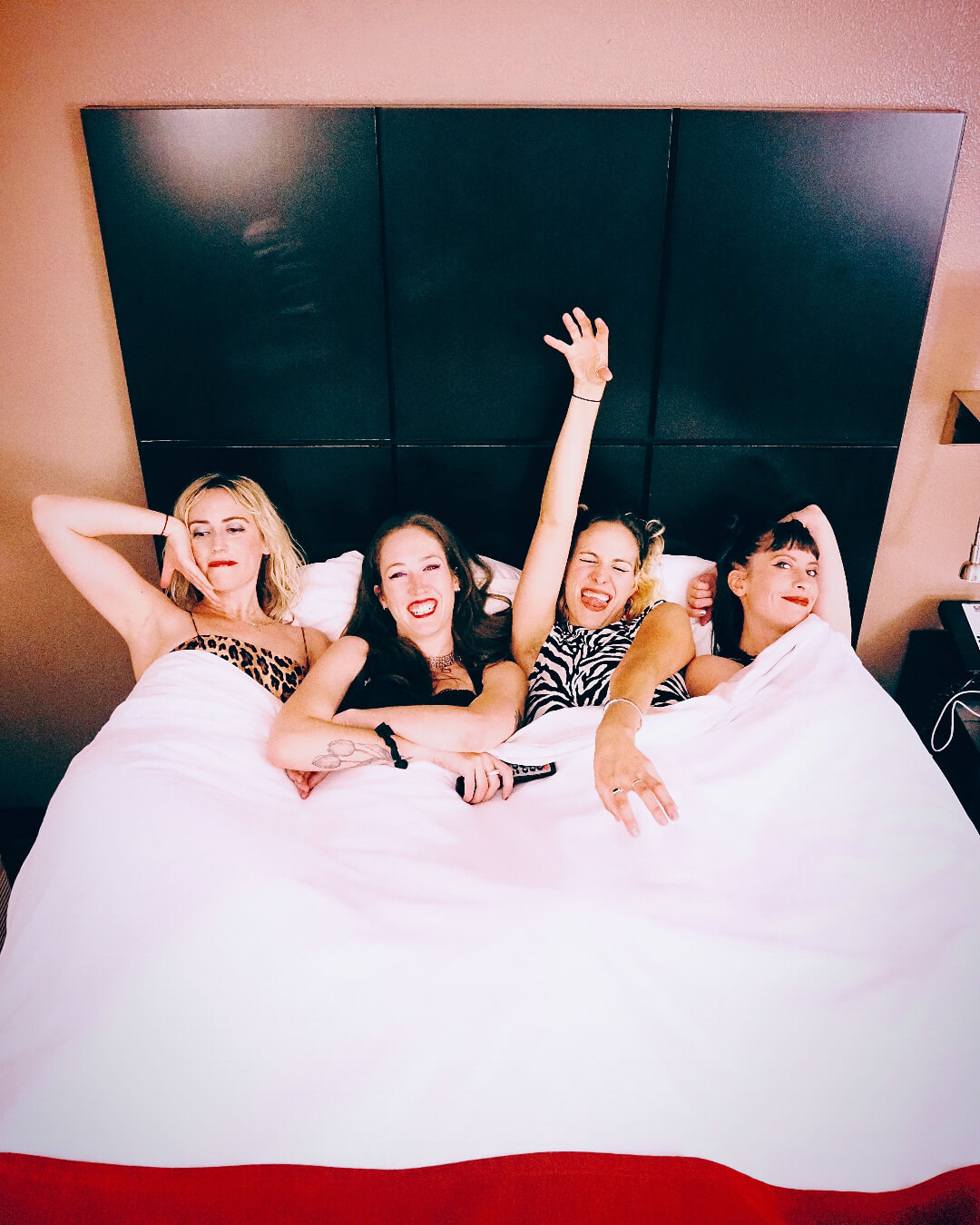 Meg: Sorry one more final photo and then we're done, I swear! This was our night off in LA and we had just done an eight-hour drive, then we all managed to clean up real nice and go out for a fancy dinner together! But of course before we left I was like "Get in the bed!!"
Kate: When given the option, we generally choose to share beds and spend the entire night as absolute mummies on opposite sides of the mattress.
Nikki: I loved this night! We all got fancy and ordered some classy martinis. If you want a full account of my in-depth scholarly martini rating, check out @martinisontour — not to be confused with "Martin is on tour." 
Rosie: This night was a blast. It was our first non-show-dress-up moment and we went for it! 
Gillian: It's pretty shocking how we can turn it around after hours in a van. Thankfully Megan didn't take any before-photos, but when there's a night off and a martini at the end of the tunnel, we rally!!!