Here are 25 style moments from Canadian musicians who deserve their own place in the history books. 
Alanis Morisette's "Ironic" Music Video
In the "Ironic" music video, 90s alt-rock icon Alanis Morrisette was at the height of her powers as a decade-defining star. Cruising down the highway in a spacious Lincoln Continental, she portrayed four different personas with four very unique looks that came to define the 90s. Each outfit pops with colourful and bright greens, yellows, and reds. The video itself serves as a rose-tinted looking glass for pre-Y2k fashion and we're still watching. 
The Weeknd's Super Bowl Performance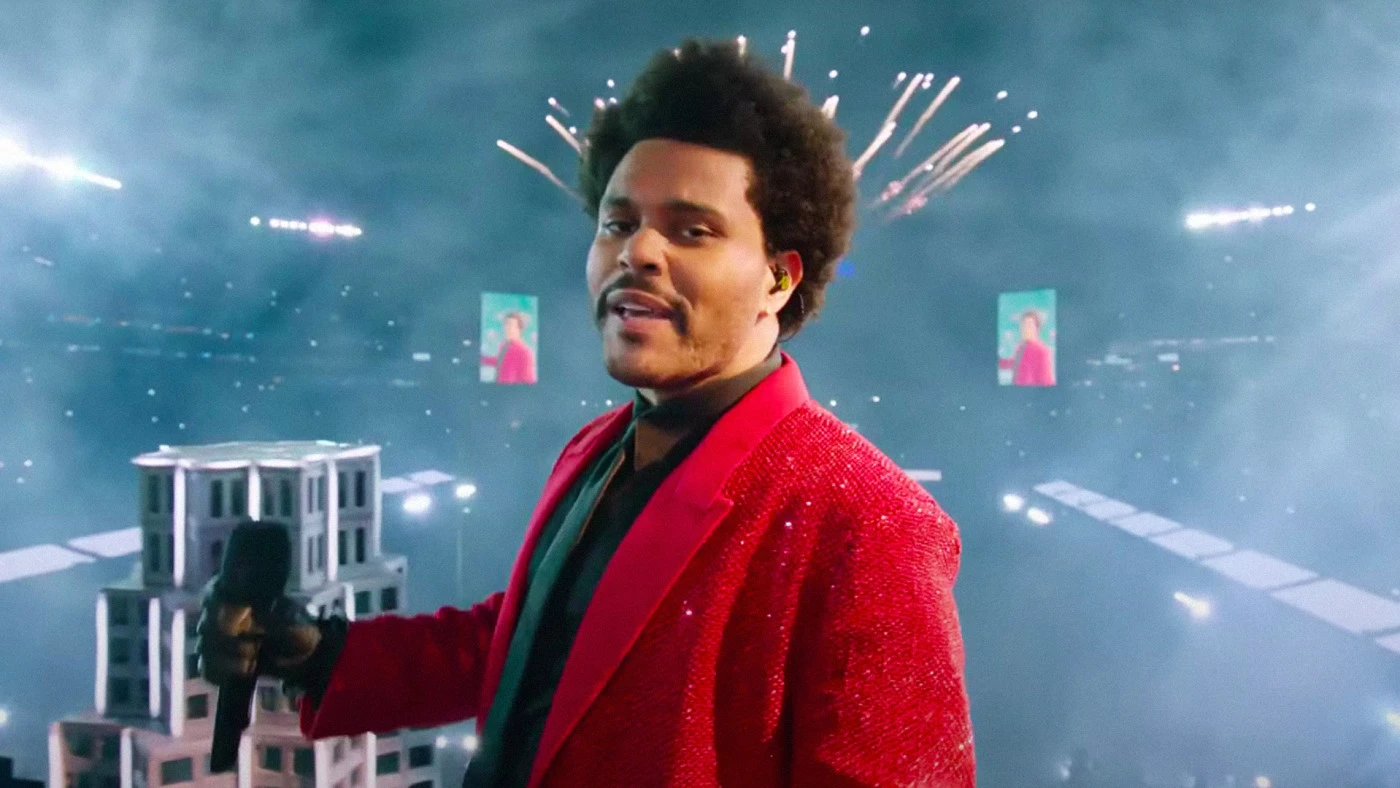 The Weeknd's Super Bowl LV performance was jaw-dropping. A culmination of an image overhaul he underwent for his celebrated 2020 album, After Hours, Abel Tesfaye took on a new persona for the record: Las Vegas high roller. At halftime, he strutted around the Raymond James Stadium in a blood-red Givenchy jacket embroidered with crystals and Michael Jackson-esque black and white derbies. Read our review of The Weeknd's Dawn FM here. 
Nelly Furtado at the 2001 MTV VMAs
History seems to have forgotten Nelly Furtado to some degree, which seems unfair considering her often underplayed hitmaking prolificacy in the 2000s and knack for styling. The British Columbia native proved she could consistently put together an engaging outfit. This monochromatic look she wore to the 2001 VMAs combines a striped button-up with low-waisted wide cropped jeans and does not skimp on the chains.
Daniel Caesar in the Dime Lookbook
In the spring of 2020, Daniel Caesar joined forces with Montreal-based skate company Dime for their new lookbook. The collab paired Canada's fastest-growing fashion brand with one of the country's most prominent and successful young musicians. Caesar has always been able to turn a look, although his underplayed style may have caused some to overlook him. In the shoot, he wears a navy blue windbreaker, a patchwork crewneck, oversized denim shorts – all emblazoned with the ubiquitous Dime logo.
Lido Pimienta on the Cover of Miss Colombia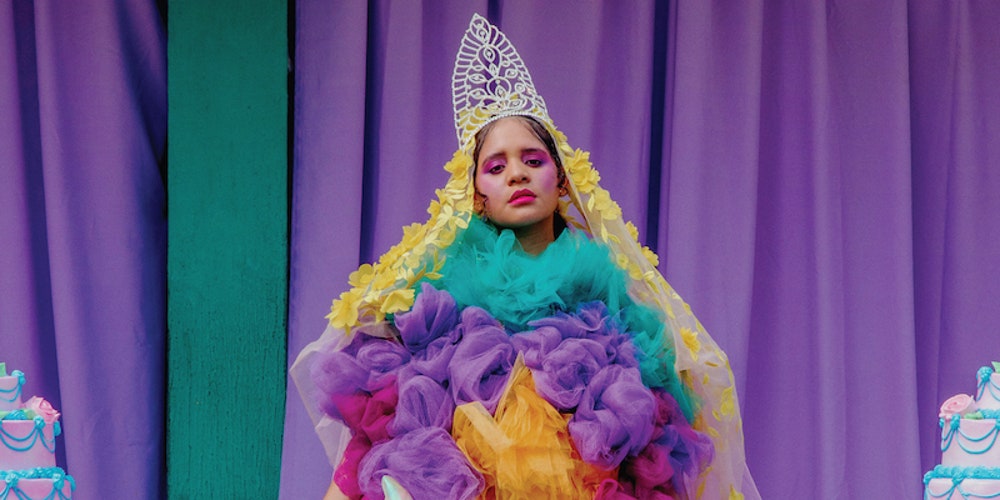 Lido Pimienta's fashion style is as colourful, imaginative, and unique as the music she makes, fusing traditional Afro-Colombian music with synth-pop and electronica. Her outfits are deliberately transgressive, often pairing menswear pieces she finds at thrift shops around Toronto with dresses made by Colombian designers. The cover for her album, Miss Colombia, sees Pimienta in a dress made up of several different colours and fabrics, symbolizing all the weddings, baptisms, quinceaneras, and other events that a proper Miss Colombia must go through.
Celine Dion at the 1999 Academy Awards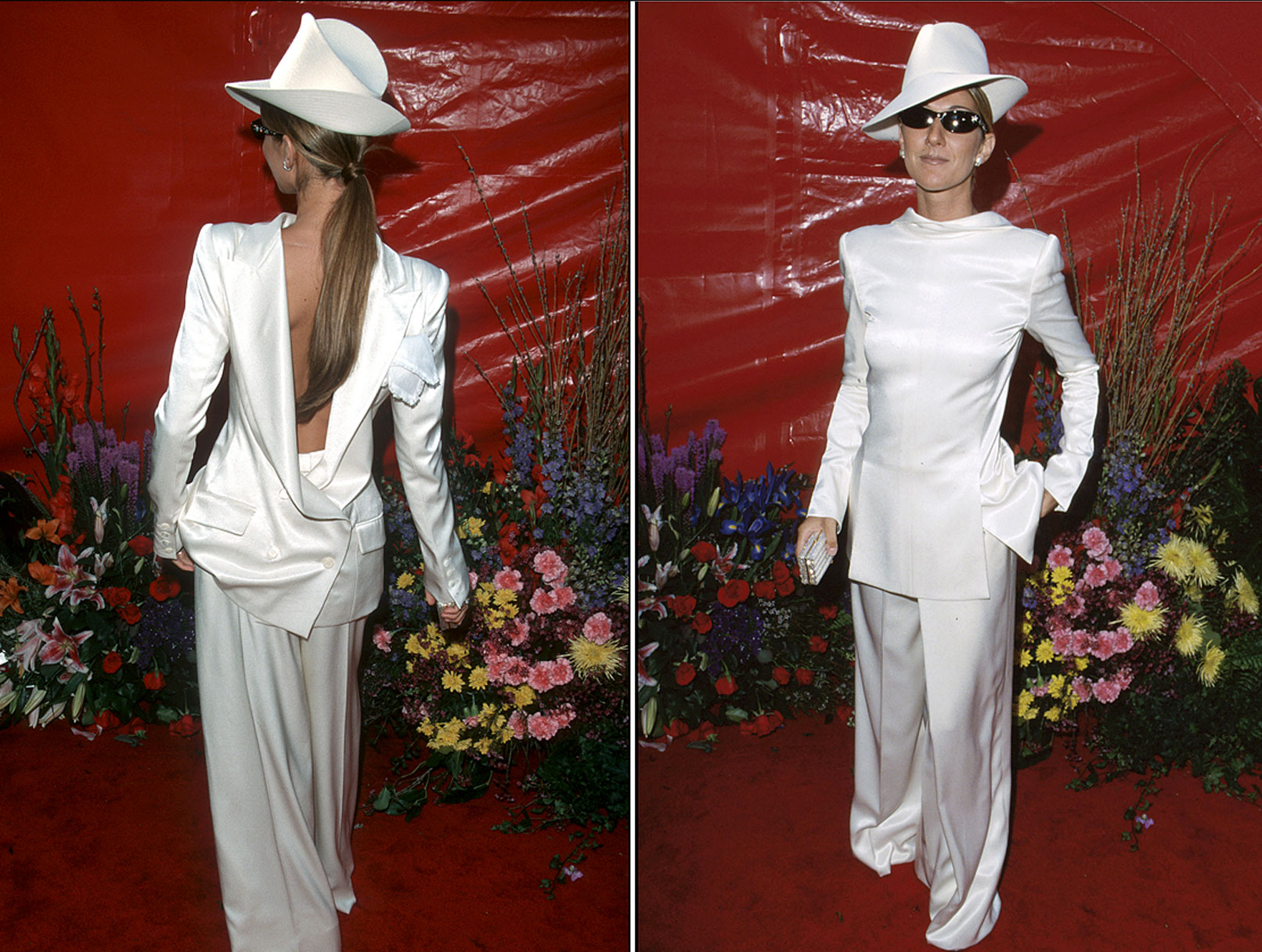 In 1999, Celine Dion set the tabloids alight when she walked the red carpet at the Oscars wearing a white tuxedo designed by John Galiano backward. Dion chose to wear the suit backward to imitate the open slot at the back of a dress. She topped off her look with a striking white Dior fedora. Although the look was initially panned, it has since become one of the most iconic in Dion's style pantheon.
Justin Bieber's Rockstar Moment in the "Popstar" Music Video
DJ Khaled and Drake's "Popstar" video was pure Belieber wish-fulfillment: Justin Bieber at the peak of his powers, embracing the rockstar lifestyle while wearing some of the best outfits he's ever worn in a music video. Beiber shows off his versatile sense of style with multiple looks: a luxurious blue shearling coat with wide cropped checkered trousers by Louis Vuitton; a Versace co-ord set made for living it up on a tropical island; and a Marcelo Burlon print jacket with tons of jewelry and endless vampire rockstar vibes.
k.d. lang Gets a Shave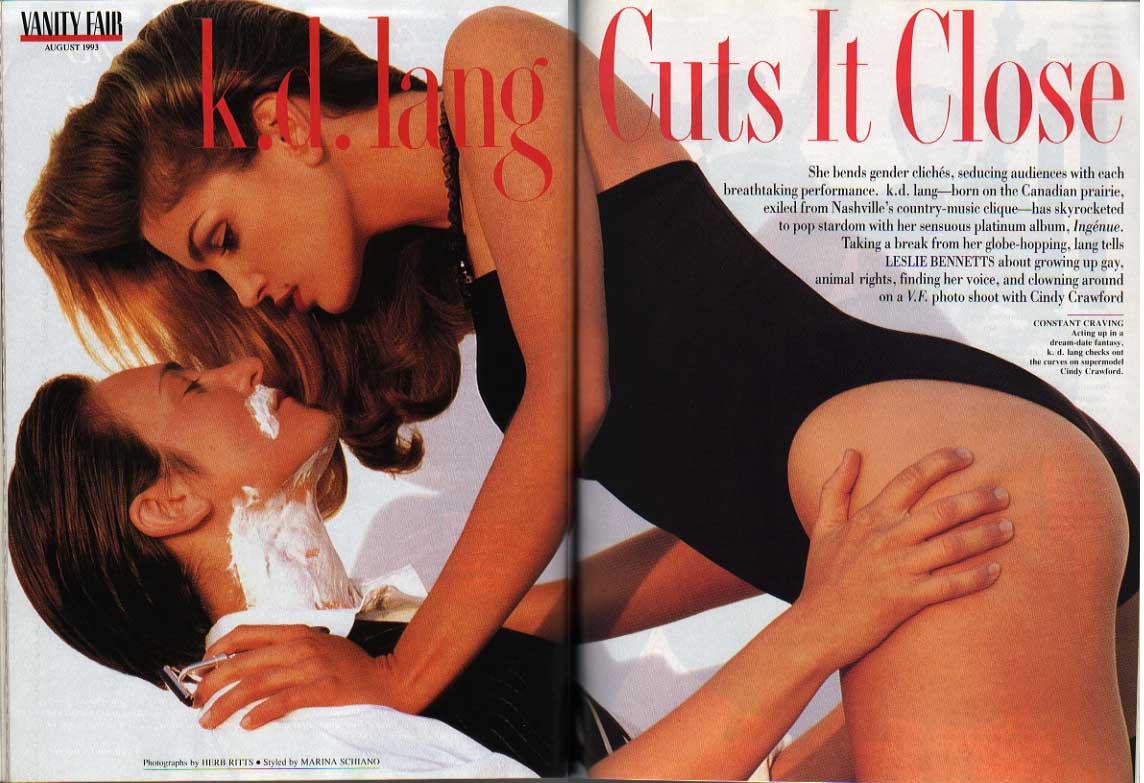 Country and pop legend k.d. lang constantly pushed boundaries with her style, even though her gender-fluid fashion sense was often at odds with what was deemed acceptable in the country music genre or by the mainstream media at the time. Her famous Vanity Fair cover with Cindy Crawford in 1993 drew attention for subverting gender norms: Lang sat in the barber chair and received a close shave while wearing a black and white suit. Nearly 30 years later, the shoot remains legendary: last year, it was recreated, by former Ru Paul's Drag Race star Shea Coulee.
Win Butler's Reflektor Suit

Arcade Fire's stage attire evolved over the course of a decade as much as their music, transitioning from modest formalwear for their debut album Funeral to the imaginative and overblown styling at their Reflektor tour in 2014. The fashion of the Reflektor era was purposely extravagant; band members wore campy costumes and audience members were asked to dress up, either in formal attire or costumes. Win Butler's mirror suit was the height of the tour's theatrics; a mix of Kanye West's famous Yeezus get-up and the prototype Iron Man suit that Tony Stark made in a cave. Butler would take the stage covered head to toe in glass: the costume symbolized Reflektor's themes of self-reflection by literally reflecting the audience. 
Jeremy Dutcher's Floral Cape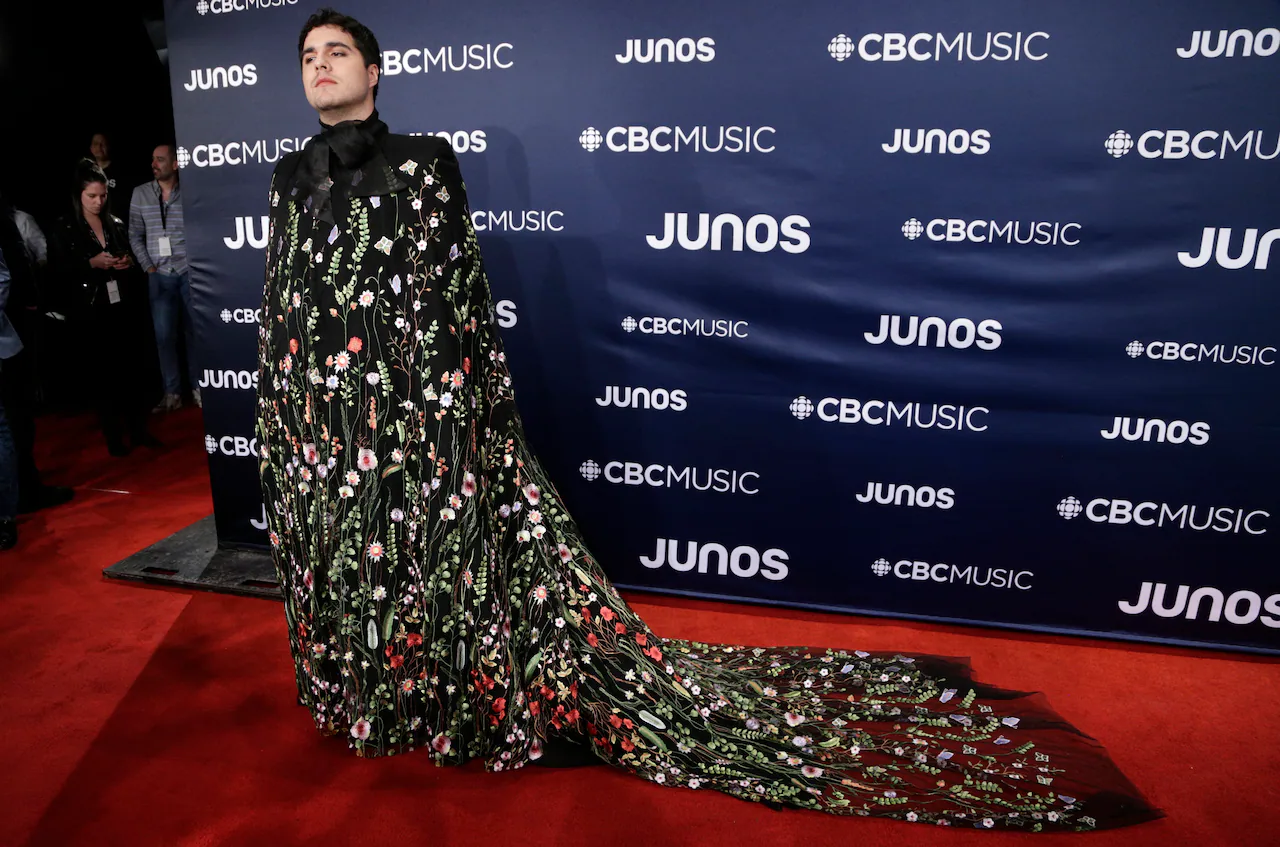 Classically trained tenor Jeremy Dutcher stole the show at the 2019 Juno Awards in his beautiful floral cape. The show-stopping gown had immense meaning: it was a statement about Dutcher's Wolastaq heritage and two-spirit identity. Co-designed by Edmonton-based Indigenous designer, Luxx, the cape's multi-coloured floral designs symbolized land and its relationship to Indigenous people's identity. The inline of the cape had Cree lettering that spelled out "We will succeed," highlighting the importance of protecting Indigenous languages. Dutcher's first Junos appearance was a triumph as he stole the show and proudly waved the flag for the LGBTQ2+ Indigenous community.
Kaytranada at the 2021 Grammy Awards
Haitian-Canadian producer Kaytranada won big at the 2021 Grammy Awards, taking home three awards, including best new artist, and he came dressed for the occasion. The critically acclaimed DJ has always had a wicked and retro sense of style inspired by 70s Blaxploitation movies and 80s hip-hop. On the red carpet, he radiated confidence while showing off his awards in a pinstripe Louis Vuitton suit.
Peak Avril Lavigne at the 2002 VMAs
Avril Lavigne captured the world's attention in the early 2000s due to her insanely catchy songs and her rebellious punk rock aesthetic. Her outfit at the 2002 VMAs was emblematic of her care-less attitude. She decided against any designer pieces and formalwear instead wore oversized camo pants, a white tank top, and a tie.
Sean Leon's Stan Smith Lookbook
Toronto-based rapper and producer Sean Leon is a polymath: he directs, designs clothing, and recently founded Pupil Inc, an independent creative hub for Toronto artists.  When he appeared in a Complex lookbook for the new eco-friendly Stan Smiths he kicked the look into a new dimension. Leon holds an old wooden tennis racquet while wearing the redesigned Stans with jeans and a hoodie – classic Stan Smith iconography mixed with modern style. Leon looks slick in his new Stans, and few artists represent the idea of constantly evolving more than him.
Orville Peck Decked Out In Dior Logos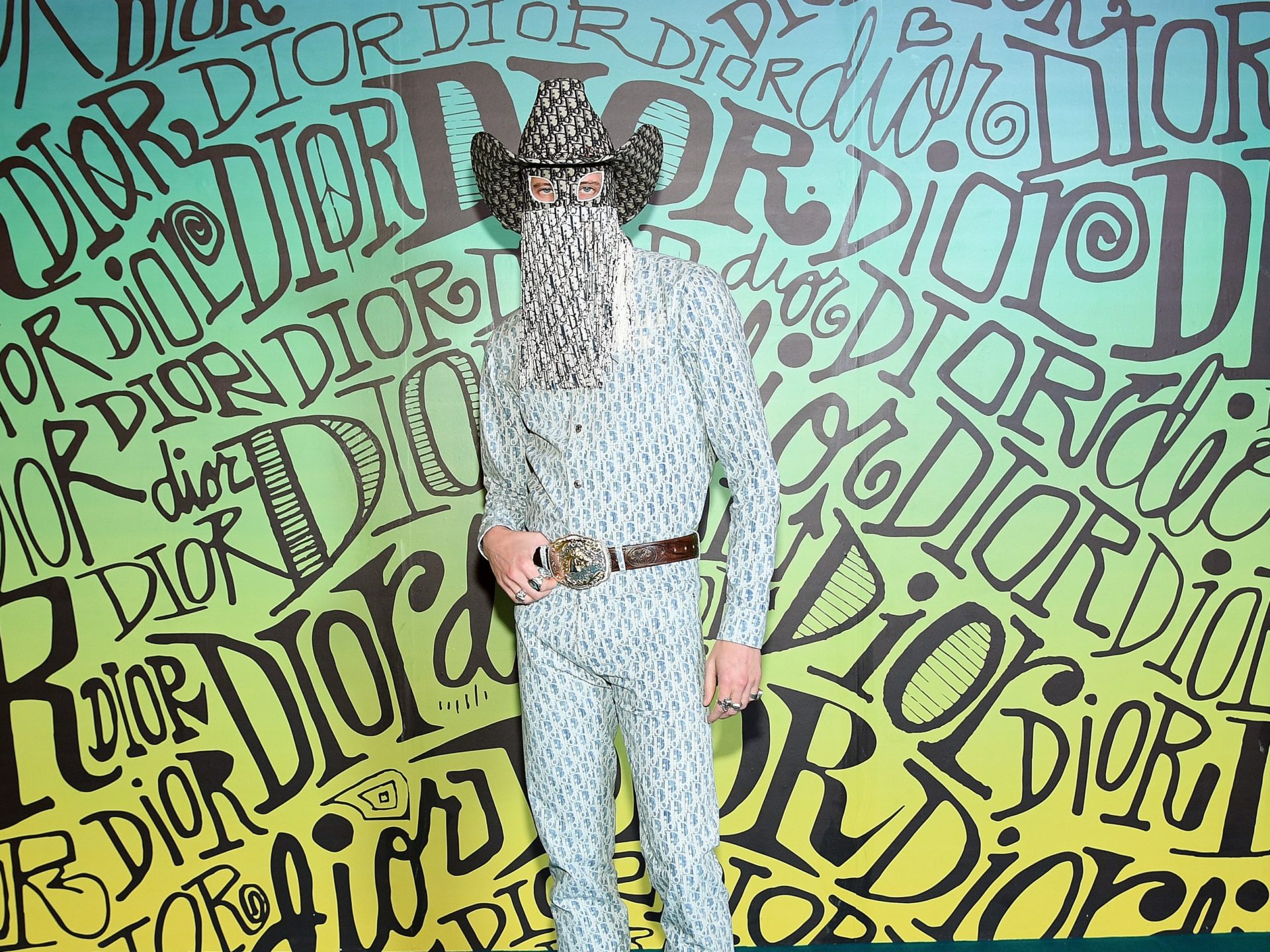 Despite only releasing his debut LP, Pony, three years ago, Orville Peck already has a deep catalog of show-stopping fashion moments. The Canadian country star's appearance is quickly becoming recognizable worldwide: a cowboy hat and a trademark mask with its dramatic fringe that conceals his face. This outfit that he wore to the Dior Men pre-spring 2020 show was insane; Peck was covered head to toe in Dior logos, one of the most inventive reimaginings of his look so far.
Grimes Brings a Sword to the Met Gala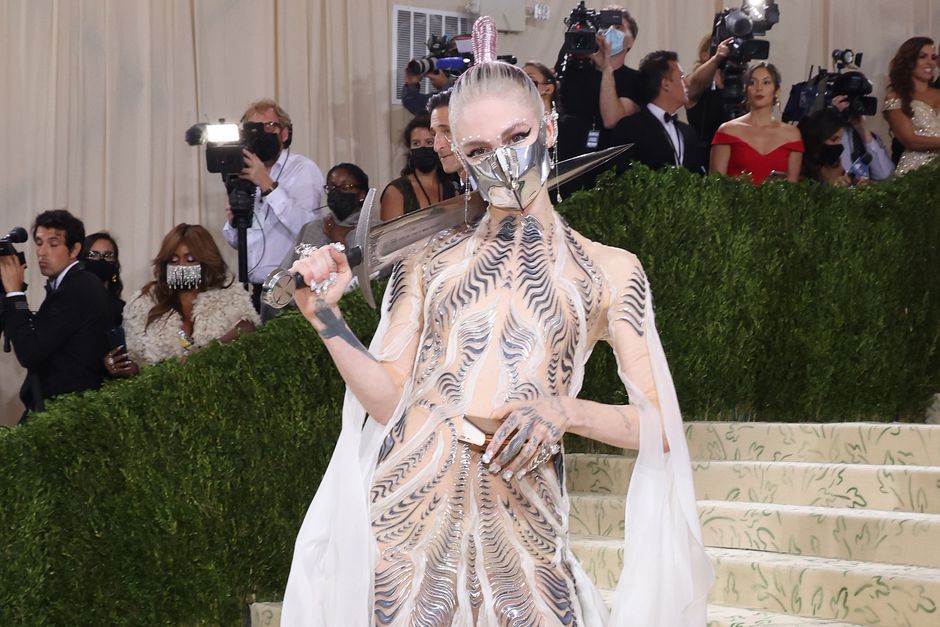 From making her US television debut in a red silk kimono to walking the Met Gala red carpet in a gothic dress co-designed by her then partner Elon Musk, Grimes' fashion has always drawn attention. The Vancouver-born avant-pop artist's sense of style is as varied and experimental as her music. The multi-textured white Chanel dress that she wore to the brand's haute couture spring/summer show is also one of her standout looks. Between the head-to-toe jewelry and the sequinned bodice, Grimes is often hard to miss. 
Robbie Robertson's Double Denim
Canadian rock royalty in a Canadian tuxedo, it doesn't get much more iconic than that. Although denim on denim can often feel played out, Robbie Robertson gets a hall pass for being an innovator. He was the lead guitarist and songwriter of The Band and the most stylish member of the group. This outfit fits perfectly with the hard-working DIY aesthetic of The Band while still being stylish and well put together.
Charlotte Cardin's "Passive Aggressive" Music Video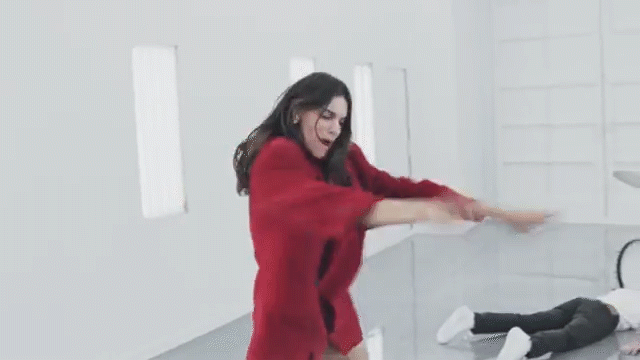 As well as being a pop star on the rise, Montreal native singer-songwriter, Charlotte Cardin, is Chanel's only Canadian brand ambassador. Cardin's style is effortlessly cool (think Parisian), and she cites Alexa Chung as one of her style icons. Her outfits in the video for "Passive Aggressive" are simple but memorable: A red blazer with white sneakers and golden earrings; a white tank top with red shorts. 
Leonard Cohen's Turtleneck and Trench Coat Combo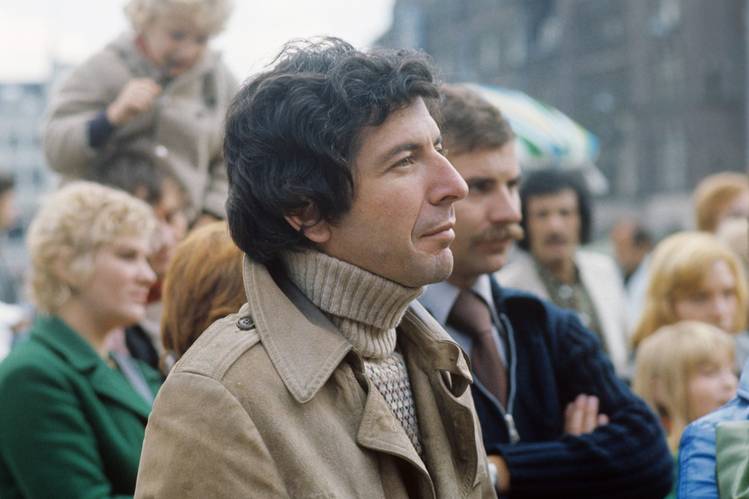 Leonard Cohen's sophisticated sense of style was nearly as iconic as his writing with those powerful pinstripe suits, bolo ties, his trademark trilbys. His style could also be more relaxed and bohemian: in his 20s, he would wear bulky knitwear and cotton trousers. The turtleneck/trench coat look captures Cohen's self-possessed attitude that defined his career; He manages to look debonair while casual all at the same time.
Emmanuelle Proulx in Men I Trust's "Tides" Music Video
It can be hard to sum up Emmanuelle Proulx's laid back, colourful, and thrift-heavy style in just one look, so we avoided conflict by picking her ensemble of outfits in the music video for "Tides." Like the dreamy yet funky music of Men I Trust, Proulx's style is a subtle combination of opposites; she defines it as a merger of unisex and feminine clothing. This video is full of colourful yet utilitarian outfits: a beige coat with a bright red sweater; a green work shirt over a buttercup yellow zip-up turtleneck. 
Mustafa Collabs With Valentino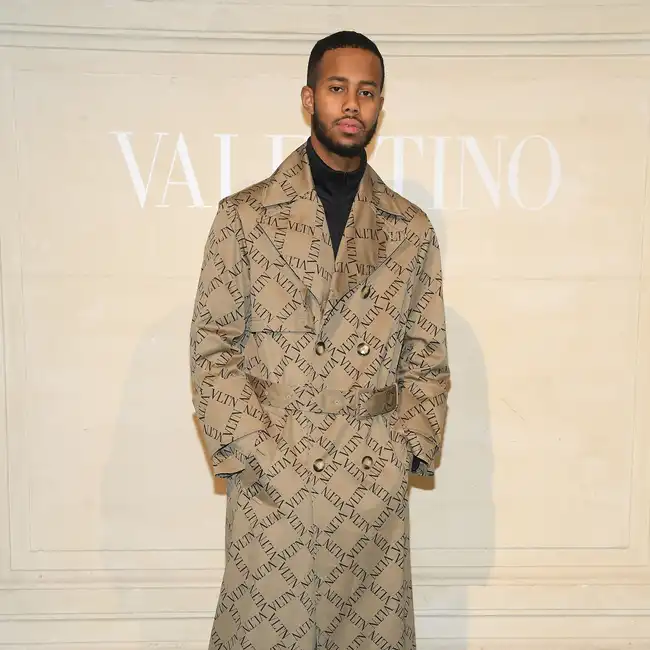 Mustafa has already worked with several vaunted artists. He helped write The Weeknd's 2016 single "Attention" and directed a documentary, "Remember Me, Toronto," that featured Drake. In 2019, he was enlisted by Pier Paolo Piccioli, the creative director of Valentino, to write accompanying poems for the brand's winter/fall collection that year. Mustafa wrote 50 heartfelt verses about love and romance, which Valentino incorporated into their runway looks as beautiful embellishments.
Shania Twain In Leopard Print
Shania Twain and leopard print are synonymous with one another. It all started for her with this look: Twain wore a leopard print jumpsuit in the Mojave desert while filming her video for "Don't Impress Me Much." She recently brought back the black and brown spots for the music video that accompanied her recent song with Orville Peck, the aptly named "Legends Never Die." 
Jazz Cartier at the 2017 VMAs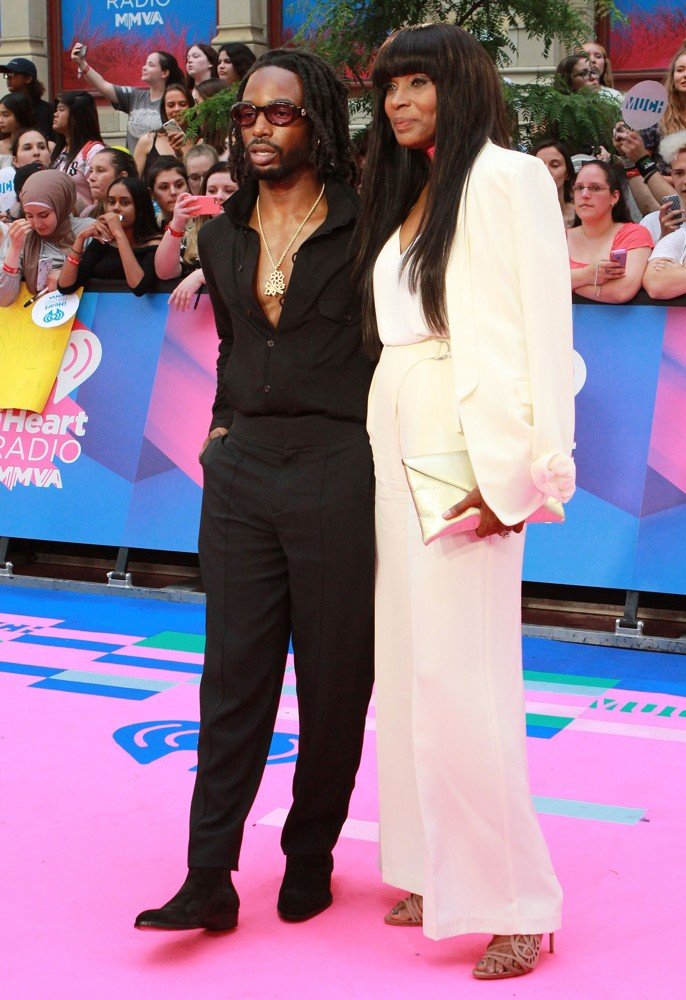 In 2017 Jazz Cartier was being touted as Canada's next big thing. His album Hotel Paranoia upset Drake's Views to win Best Rap Album at the Juno Awards, and endless editorials were praising Cartier's for both his sound and his fashion sense. He was dressed for success on the 2017 MMVA red carpet: an all-black black outfit with high-waisted trousers, an unbuttoned shirt, a flashy pair of sunglasses, and some golden jewelry. 
Tanya Tagaq at the 2017 Juno Awards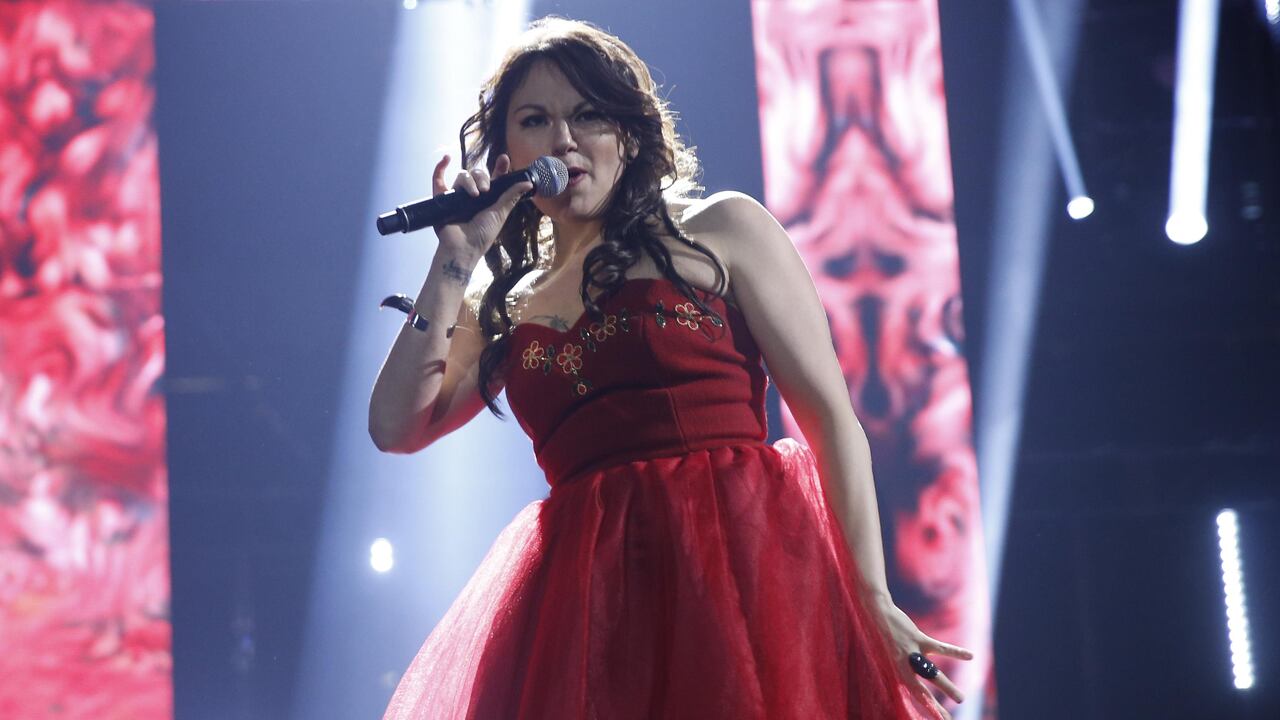 In 2017, the critically acclaimed Inuk throat singer, Tanya Tagaq, arrived at the Juno Awards in a red dress designed by Dene fashion designer, Tishna Marlowe. Tagaq wore the dress in honour of the countless missing and murdered Indigenous women. The beading also had important significance, as the dress's floral design represented Tagaq's family. Marlowe also crafted looks for two other talented Indigenous female artists at that ceremony: Dene singer-songwriter Leela Gilday and Inuk singer Tiffany Ayalik.
Luna Li in Local Women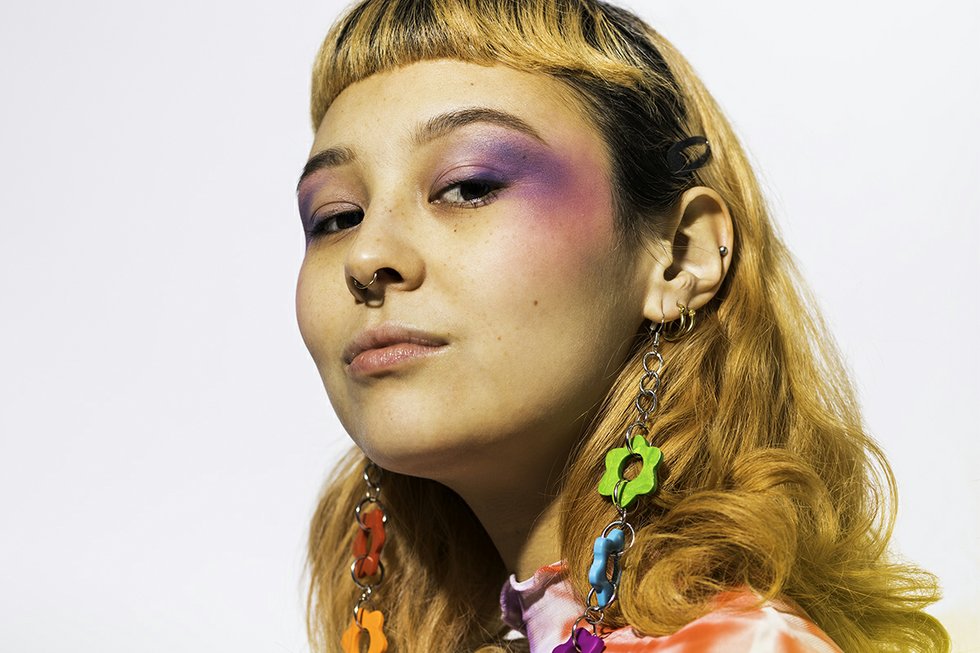 Luna Li is an artist on the rise. Her dreamy blend of pop is slowly amassing a following. As well as being a highly talented multi-instrumentalist and singer, Li has a great sense of style. The Toronto native's look is carefree and colourful; she wears kitschy earrings and lots of pastel clothes. In the video for her song "Afterglow," Li wore this see-through dress with blue floral prints by Toronto brand, Local Women.
Drake Breaking Records in Stone Island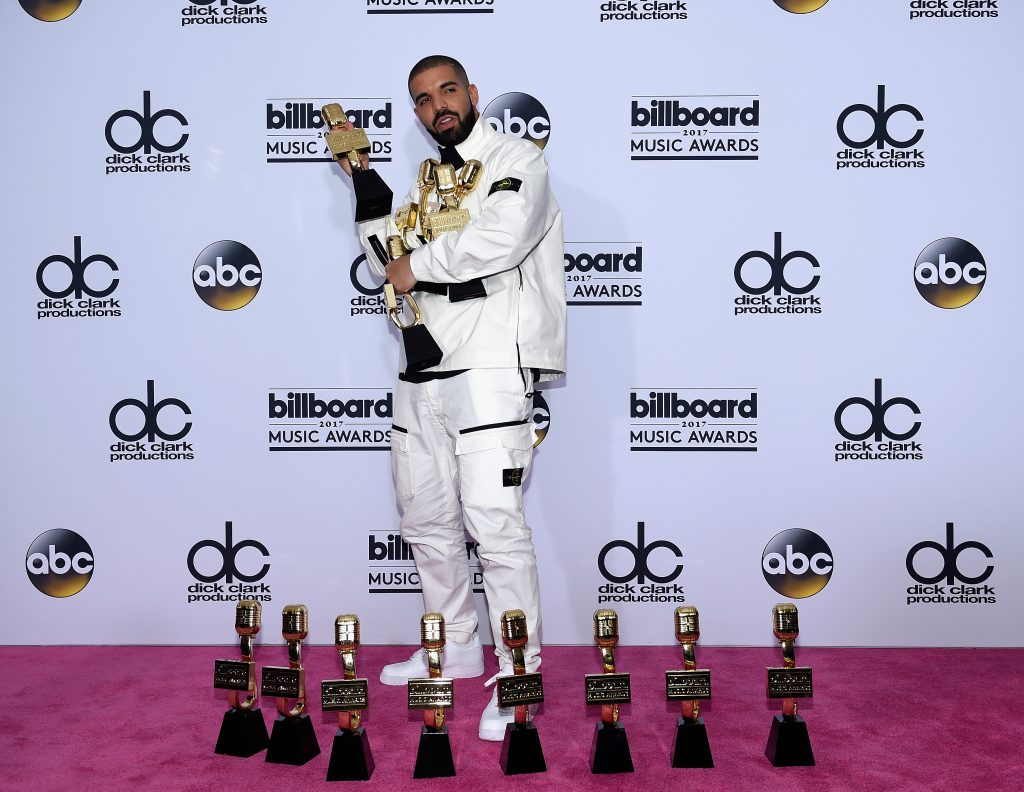 From generating buzz online with his game day Raptors outfits to dressing up with a Tom Ford suit and accompanying turtleneck and chain, Drake has had a lot of fashion moments during his decade of dominance. After he broke the Billboard Awards' record for most awards won in one night — 13 — he took a photo with all his trophies while in an all-white Stone Island outfit. Drake has been a massive fan of the brand over the course of his career, so it was appropriate that he was decked out in the Italian threads for one of the biggest nights of his illustrious career.