While this year may have looked more like SXSW-lite with the absence of things such as the FADER Fort (likely due to the short amount of timing this year provided leading up), there was plenty of opportunities for music fans to interact with brands and bands while tech companies and NFTs hustled to take up as much space as they could. 
As the dust settles in Austin and our bodies slowly recover, we are looking back through our photos from the frontlines to remember some of the best experiences that this year's convergence of tech, comedy, and music provided. 
Yard Act
3/15 at Cedar Street Courtyard and 3/17 at Cheer Up Charlies
Pure post-punk fury from Leeds, complete with all the blue-collar angst you could ever ask for, Yard Act are the next band to watch in the long line of impressive UK acts (Fontaines DC, Shame, Idles, etc) emerging to remind us that punk rock is still alive and well, it just looks and smells a bit different in 2022. Their music is not commercial music by any stretch but it has both style and substance and as they performed songs from their 2021 breakout, The Overload, they provided the kind of edge and political discourse that a festival like SXSW needs to remind itself of its modest beginnings.  
J Soulja
3/16 at Cheer Up Charlies
When it comes to hip-hop in Austin, J Soulja is leading the charge with authority. Jumping on stage at the Roskilde Festival showcase, the young emcee grabbed the attention of the audience with the same expert-level enthusiasm that he put into the SXSW food guide that he wrote for RANGE Magazine. His crew's whole thing is about wanting to be remembered after they are gone, and if he keeps his momentum going, Soulja is cementing himself one hell of a legacy. For fans of TDE artists like Kendrick and Schoolboy Q, check out J Soulja's new album, More Than Nothin', if you're looking for new tunes to add to your hip-hop playlist. 
Magi Merlin 
3/17 at Lucille
Magi Merlin (pronounced madge-eye, like magic!) was the second artist on the bill for RANGE Magazine's official showcase and the Montreal-based artist set the stage on fire with a hybrid of R&B and rap. Joined by a bassist and a drummer, Merlin dispersed her esoteric energy and poetic flow throughout the beautiful 300-capacity outdoor venue in Austin's Rainey Street district. Her latest single, "Free Grillz," was a particular highlight as she bounced around the stage and found a perfect balance of groove and lyrical prowess that won the hearts of everyone in attendance. 
Rolling Loud at SXSW 
3/17 and 3/18 at Stubb's
Rolling Loud, Miami Florida's notorious rap music festival, took over one of the biggest downtown outdoor venues in Austin for SXSW when they convened on Stubb's BBQ's massive backyard event space to present two days of rapid-fire talent. Every emcee was given 10 minutes to give the crowd the best of themselves and rap fans were there for all 30 performers each night. From rising posi-core rapper Jaleel doing a WWE-equivalent back flip from the 10-foot high rafters into the crowd, all the way to headliner Don Toliver (pictured above) on the second night, this stacked Stubbs showcase got attendees just faded enough to start planning how to finance tickets to the world's largest hip-hop festival when it takes over Miami July 22 to 24 with the likes of Ye, Young Thug, 2 Chainz, Playboi Carti and pretty much any rapper making music today that matters.  
Wet Leg
3/18 at the Mohawk Lodge
This British indie duo from the Isle of Wight was a much talked about band at SXSW this year and for good reason. Founded in 2019 by Rhian Teasdale and Hester Chambers, Wet Leg blends smooth post punk tendencies with poppy indie rock that had a sold-out crowd grooving along to tracks like their breakout single "Chaise Lounge," and "Angelica," where Teasdale lures a love interest over to her place with the promise of having Buffalo 66 on DVD — swoon! Dressed up in a cowboy hat and spinning around the stage with beaming smiles on their faces, Wet Leg proved why they were one of the hottest tickets at SXSW and why they will be selling out audiences wherever they go this year in support of their new self-titled album set to drop on April 8 via Domino Records.
Dolly Parton
3/18 at ACL Live Moody Theater
The Queen of country music timed the release of her foray into the world of NFTs with her first-ever SXSW appearance at ACL Live during Blockchain Creative Labs' Dollyverse event. Prior to the performance she took the stage with author James Patterson, who co-wrote her new book Run Dolly Run, for a Q&A with Connie Britton (White Lotus, Friday Night Lights). The conversation about the book, its companion album and accompanying NFTs got off to a funny start when Britton's introduction proved that even she wasn't entirely sure what an NFT or blockchain server was when she referred to it as "the blockchain," but hey we are all still learning how to navigate this new world and what better place to do it than from the original wild west. Parton's performance started shortly after the awkward but endearing Q&A wrapped and the hour-long set saw the music legend working through the bulk of her major hits — "9 to 5," "Jolene," and set-closer "I Will Always Love You" — while her impressive band outfitted in rhinestone regalia accompanied her with precision. 
Surfbort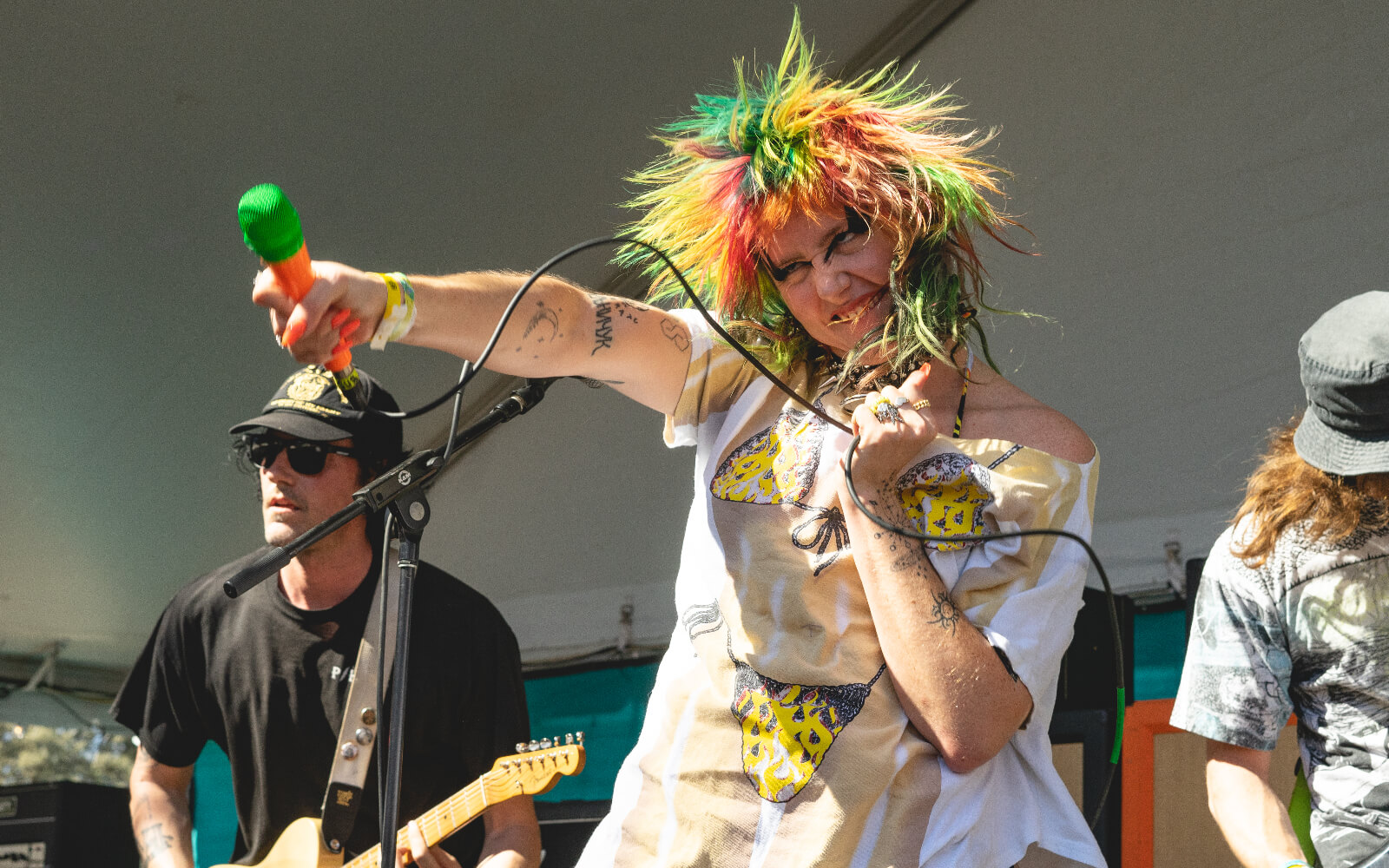 3/19 at Hotel Vegas
As the sun baked down on Hotel Vegas, a kitschy venue just across the I-35, away from the 6th Street mayhem, Surfbort took the stage for what was probably their 10th performance of the week and they played like it was their first. Frontperson Dani Miller has the kind of familiar face (and hair colour) that it takes to stand out above the noise at a festival like SXSW, and her band has the chops to match. Whether they were singing about, "white claw enema bong hits," losing your shit, or eating yourself to death with junk food, Surfbort's voracious showmanship kicked up so much dust we were blowing dirt out of our nose for the next 24 hours.